HELSINGIN SANOMAT August 18 2011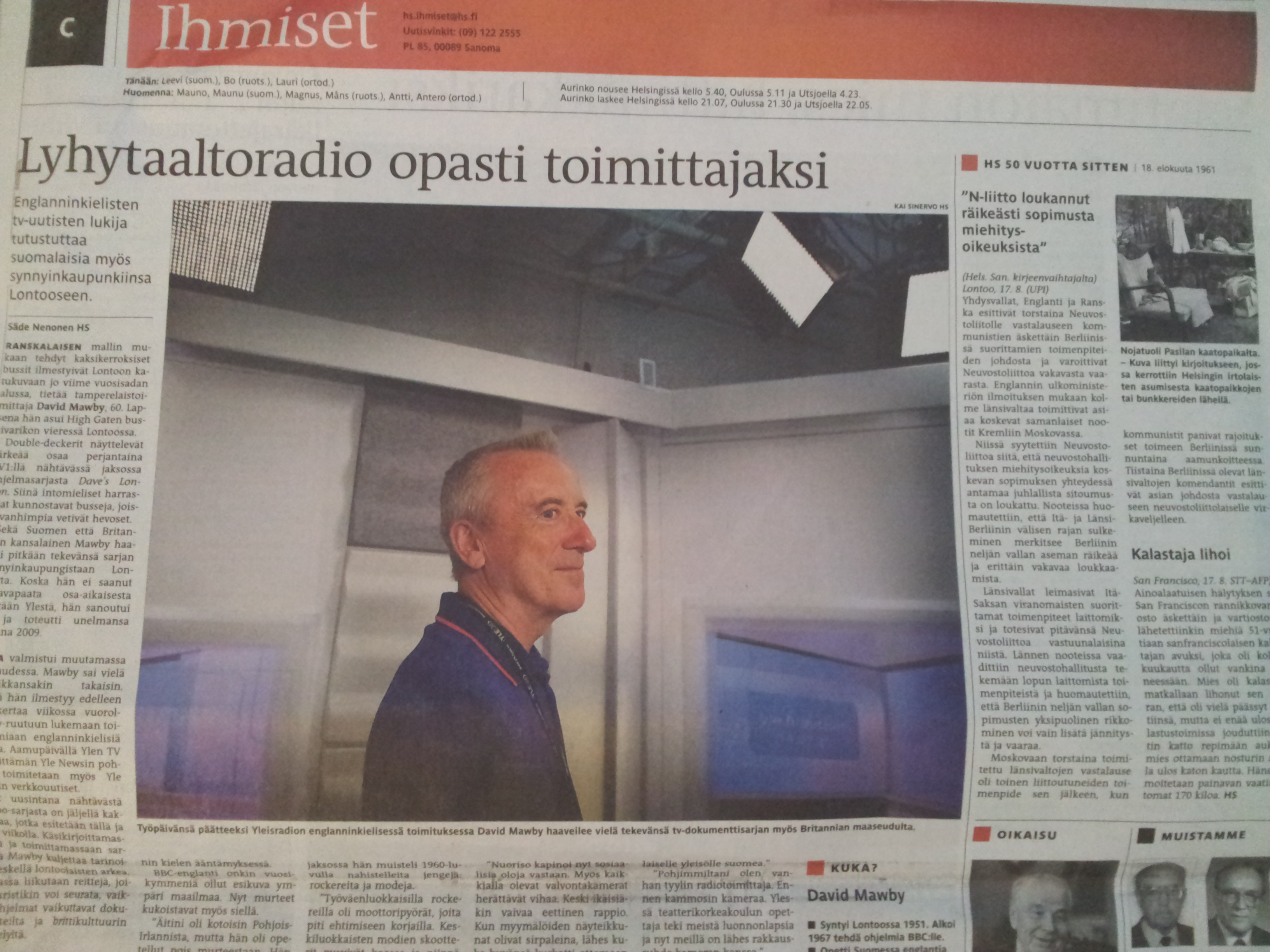 Shortwave radio showed the way for a journalist
English language newsreader introduces Finns to his native London. French style double-decker buses made their debut on the streets of London at the beginning of the last Century, explains Tampere-based journalist David Mawby, 60. As a child he lived nearby the High Gate bus depot.
Double-deckers play an important role in the next edition of Dave's London to be shown next Friday on TV1. The programme shows madly enthusiastic enthusiasts renovating these buses, which were earlier even horse-driven.
Dual national Mawby dreamt of making a TV series about his city of birth for a long time. As he couldn't get leave of absence from his part-time work at YLE to make the series, he resigned to fulfil his ambition in 2009.
The series was produced within a few months. Mawby got his job back and that's why he's on our screens reading the English language news he's prepared twice a week. This also forms the basis of the YLE News web pages.
Two episodes remain to be screened, this week and next, in this series now being shown as a repeat. In the programme written and produced by Mawby, he opens up the daily life of the city with a variety of tales. The series goes down paths that a tourist can follow even though the programmes appear to be more of a documentary nature and introduce British culture.
DAVID MAWBY became interested in electronic media during childhood.
"My father served as a mechanic repairing bombers right down to their wings in the Royal Air Force. He made my dream come true by putting together a homemade short wave radio. My knowledge of foreign languages and cultures just exploded."
Soon Mawby joined a short wave enthusiasts club and began to contribute to the BBC's "World Radio Club" programme. At the same time, the 16-year-old enjoyed almost private tuition in English pronounciation from a BBC drama producer.
BBC English has served a model around the world for decades. Now regional accents are sprouting up there.
"My mother was from Northern Ireland but she weened me off my accent. She supported and encouraged me constructively to correct my North London speech style. For his part, my father from Yorkshire represented a demanding style of upbringing."
London in the sixties was the capital of both pop music and the rise of youth culture. Mawby looked on as various gangs of youths divided according to the style of music they followed. In a recent episode of the programme he reminisced over the mods and rockers of the 1960's.
"Working class rockers had motorbikes that required constant upkeep. Middle class mods had scooters, which usually stayed in one piece. Mods were, therefore, able to move around in stylish clothes with an anorak on top. I was too young for all this and then only had a bicycle."
He now looks on with sadness at the recent eruption of riots in British cities. But he reminds us that people have rebelled in London over the ages even under threat of death from the powers that be.
"Young people are now rebelling against social conditions. Intrusive camera surveillance has also incited hatred. A decline in ethics also pervades middle class ranks. When shop windows are smashed just about anyone takes the opportunity to steal something."
MUSIC and languages are a common thread for Mawby who speaks Finnish fluently. He also enjoyed his days as a music journalist. During an event held at the World Ski-ing Championships in 1990 he worked as a DJ. In January 1993, he was senior instructor at a training and recruitment course for disc jockeys. It was stylish to speak English, but Mawby encouraged those interested in a job "to speak Finnish to a Finnish audience."
"I'm really an old school radio journalist. At first I dreaded the camera. In YLE a teacher from the Helsinki School of Dramatic Art taught us how to perform naturally and as a result we have a love relationship with the camera."
When Queen Elizabeth visited Finland in 1976, Mawby worked as an Information Secretary in Kymi Oy. The company arranged for the Queen to visit a forest area it owned and Mawby was caught on camera there.
Even though Mawby considered himself a republican in his younger day, he has over the years became a monarchist. "The monarchy represents independent continuity over the daily mess of politics. However, in republican countries, you'll also find Finland with its President Halonen showing the way in the defence of human rights and diversity."
Sade Nenonen, Helsingin Sanomat 18.08.2011
WHO?
David Mawby
Born in London, 1951. Began contributing to BBC programmes in 1967. Taught English in Finland 1972-73 and moved permanently to Finland in 1974. Freelance journalist in Radio Finland, CSCE 1975, Kymi OY Information Secretary 1976. Part-time in Yleisradio from 1998 in YLE News and radio Mondo. On Tampere University's Radio Moreeni from 1999. Lives in a registered partnership with Jarno Jokela. Nekku the dog is a family member. Dave's London, Friday TV1 12.41, repeated Sunday 09.05. Last episode of series starts next week.
Insert box: Music and languages are a common thread in the life of David Mawby who speaks Finnish fluently.